Job Details
Job Title
Boardwalk Job Fair
Posted: 2/21/2018
Location
Kemah Boardwalk

Houston, TX
Description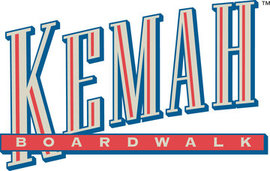 A spectacular waterfront attraction, the Kemah Boardwalk is home to fabulous restaurants, amusement rides, retail stores, festivals, a charming hotel and seaside shows every day. The Kemah Boardwalk is the perfect family getaway. At the heart of the Kemah Boardwalk are our restaurants. Along with our new concepts, Kemah boasts some of the most recognized names in the restaurant industry: Bubba Gump Shrimp Co., Landry's Seafood House, Cadillac Bar and Saltgrass Steak House. Aquarium Restaurant serves guests a great view of our 50,000 gallon aquarium brimming with marine life. The Kemah Boardwalk is also home to Red Sushi, The Flying Dutchman and Lighthouse Buffet.
KEMAH HIRING EVENT
Secure Your Job Now!
Wednesday, February 28th, 3 - 6pm
Park Entrance off Bradford Street
Join us for our Job Fair to learn
about our career opportunities including:
Restaurant positions - front and back of house
Hotel positions - front desk and housekeeping
Grounds and Maintenance
Ride Operators and Game Attendants
Cashiers
Baristas
Boardwalk Beast Crew and Captains
Requirements
*some positions require a valid driver's license and/or pre-employment background check and drug screening
Our team members enjoy a fun, family-oriented environment, food and retail discounts, and a great opportunity for career growth!
2 weeks paid vacation offered to qualified team members (1 week after 6 months of employment)
Landry's is a multinational, diversified restaurant, hospitality, gaming, and entertainment conglomerate based in Houston, Texas. The company operates more than 500 high-end and casual dining establishments around the world, including well-known concepts, such as Landry's Seafood, Bubba Gump Shrimp Co., Rainforest Cafe, Morton's The Steakhouse, The Oceanaire, McCormick & Schmick's, Mitchell's Fish Market, Chart House, Saltgrass Steak House, Claim Jumper, and Mastro's Restaurants. The company also operates a group of signature restaurants, including Vic & Anthony's, Grotto, Willie G's, and others. The gaming division includes the renowned Golden Nugget Hotel and Casino concept, with locations in Las Vegas and Laughlin, NV, Atlantic City, NJ, Biloxi, MS, and Lake Charles, LA. The entertainment and hospitality divisions encompass popular destinations, including the Galveston Island Historic Pleasure Pier, Kemah Boardwalk, Aquarium Restaurants, and other exciting attractions, coupled with deluxe accommodations throughout the Houston and Galveston area, including the Westin Hotel in downtown Houston, the Kemah Boardwalk Inn and Luxurious San Luis Resort, including the Hilton and Holiday Inn located on Galveston Island. We need high caliber, experienced individuals to join our organization. If your skills and talents are a match for our needs, we can open the door to career opportunities.
- EOE -
*TMJ
Back to Search
Apply